Two ClaimMaster tabs in my Word ribbon
Two ClaimMaster tabs appear in the Word ribbon
For the ClaimMaster menu to appear in MS Word, ClaimMaster template must be placed in the MS Word's STARTUP directory. When you see two ClaimMaster tabs in your Word's ribbon, it typically means that your Word is loading two distinct ClaimMaster templates during Startup. This could lead to incorrect ClaimMaster behavior.
To resolve this issue, you need to make sure only one ClaimMaster template is being loaded during Word startup. Specifically, you need to locate all possible Word Startup directories configured in Word and then remove the duplicate ClaimMaster template from them.
To find location of the Word's STARTUP directories (preferably there is only one):
In

Word 2002/2003

, to locate or change the location for Word STARTUP folder, in Word, click

Options

on the

Tools

menu, and then click the

File Locations

tab.

In

Word 2007-2016

Click

File

, then

Options

, then

Advanced

, then

File Locations

Alternatively, click the

File

, click

Options

, click the

Trust Center

, and then click

Trust Center Settings...

, then

Trusted Locations

as shown below.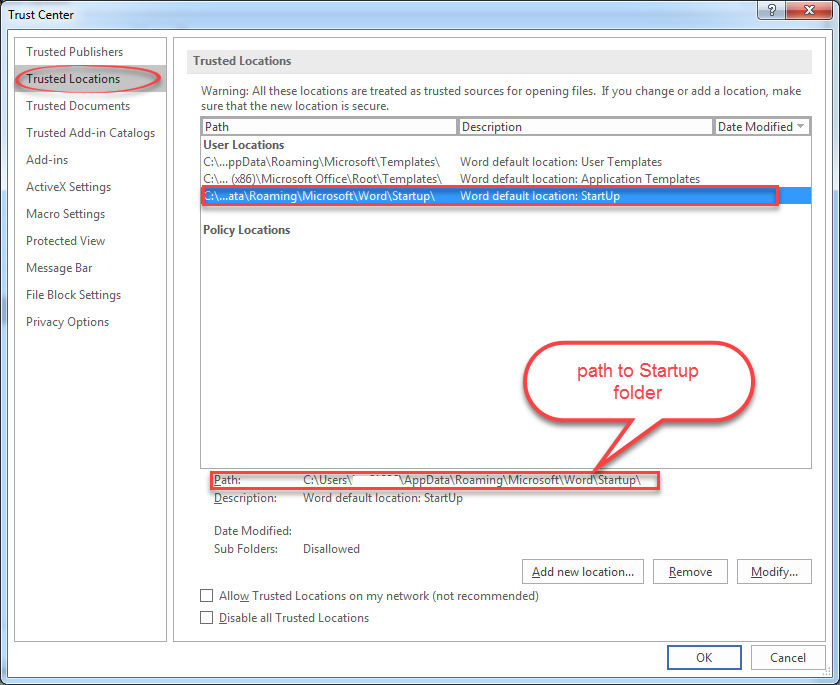 Although STARTUP directory is user-customizable, most people do not change its default location. The default location for the STARTUP folder on Windows 7 is: C:\Users\USERNAME \AppData\Roaming\Microsoft\Word\STARTUP\, where USERNAME is the logon name of the user. However, you may have more than one Startup directory configured.
Once you identify all of the configured Word Startup directories, go through them and make sure only one ClaimMaster template is located - that is going to be the template that will be loaded by Word during the startup sequence.
To remove the other templates from loading, exit Word to release the currently loaded templates, remove the older template (or change its extension to something other than .dotx) and then restart Word. At this point, you should see only one ClaimMaster tab in your Word ribbon.