The USPTO recently announced a new way to perform patent application filings in DOCX format. Per the USPTO Text Intake Guidelines, applicants can submit their applications, via EFS-Web, in three separate DOCX documents: Specification, Claims, and Abstract. EFS-Web users must create and upload these documents individually, which is a fairly tedious process.
ClaimMaster includes a specialized tool that simplifies the process of splitting-up your applications into separate Specification, Claims, and Abstract documents for easier patent application filings with EFS-Web. In addition, ClaimMaster will flag and let you fix various content issues in your documents before they are uploaded to EFS-Web.
To launch this feature (available in Lite+, Pro, and Pro+ versions), first open your desired application in Word. Then go to "Time-Saving Tools" and select "Split-up Application for EFS-Web Upload" feature, as shown below.
Next, you can inspect your document for various invalid content issues that might cause problems during an upload to the EFS-Web system. To do so, click on "Inspect current document for EFS informalities" button in the window that shows up.
Clicking on this button will bring up Word's own Document Inspector tool that helps you identify track changes, custom XML data, hidden items, and other content prohibited by EFS-Web. In addition, ClaimMaster will check whether Abstract is longer than 150 words.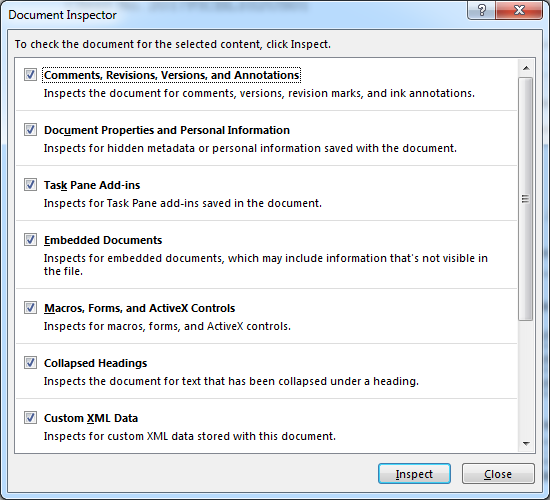 Once you inspect and clean your application from prohibited content, you are ready to separate it into documents the patent application filing. To do so, simply click on the "Split up the current document" button, as shown below. ClaimMaster will then automatically identify the specification, claims, and abstract in the currently open Word document and create three new corresponding DOCX documents in the directory of your choice.
Notably, you current application document will be unaffected. Each new document (i.e., specification, claims, and abstract) will have page numbering that complies with the EFS-Web guidelines, but will otherwise retain the original formatting of the application document, including headers and footers (where applicable). You can now review, print, email, or upload the new documents to EFS-Web.
As you can see, this feature is very straightforward to use and you just saved yourself at least 10 minutes of work for each patent application filing!